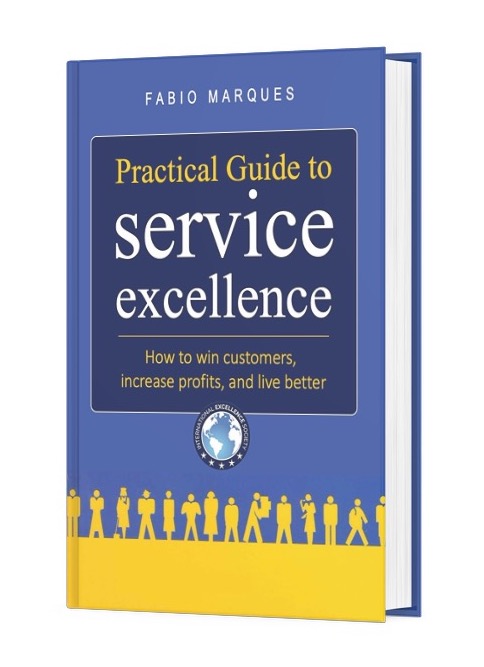 Written by an expert author with a proven track record of successfully applying the strategies, techniques, and concepts covered in the book!
This How-to Guide is the first book that clearly and objectively shows what true service excellence is and how to run a business to grow in today's and tomorrow's highly competitive marketplace.
In a simple and enlightening way, Fábio Marques addresses all the fundamental points and work tools so that any organization can achieve total customer satisfaction, motivation and the best operational results.
This guide fully addresses the human aspect of service delivery and customer service, showing how we can achieve amazing results in business profitability and personal fulfillment.
An ideal book for anyone who owns or manages a business!
Totally didactic, it is a great indication for business and marketing students!
And, without a doubt, a highly recommended read for business consultants.
SERVICE EXCELLENCE MANAGEMENT
IS THE CUSTOMER ALWAYS RIGHT?
STRATEGIC ADVANTAGES
WARNING FROM CONFUCIUS
QUALITY IS
CUSTOMERS EVERYWHERE
TOTAL QUALITY IS A MATTER OF WHEN
SERVICES ARE MORE THAN WE THINK
GOOD SERVICE AND 3 KEY QUESTIONS
SERVICE EXCELLENCE, AFTER ALL
THE 4 MARKETS
WHY CUSTOMERS DO WHAT THEY DO
MARKET SHARE: INFLUENCING FACTORS
HEART SHARE: THE TRUE FORM OF LOYALTY
THE MANAGERIAL LEADER
THE EVOLUTIONARY FEEDBACK
THE REAL EMPOWERMENT
TRUE TEAMWORK
KEY COMMUNICATION
USEFUL TIPS ABOUT CUSTOMER SATISFACTION SURVEYS
10 COMMANDMENTS FOR EFFECTIVE
CUSTOMER SATISFACTION SURVEYS
5 STEPS TO FOLLOW WHEN HIRING NEW EMPLOYEES  
STRATEGIC INVESTMENT IN EDUCATION & TRAINING
ANSWERING THE PHONE LIKE A PRO
DEALING WITH COMPLAINTS EFFECTIVELY
MEASURING RESULTS
EVALUATING RESULTS
Business Advisor & Influence Mentor
Fabio Marques
Trilingual International Business Consultant, Influence Mentor and Inspirational Speaker since 1996, with over 16,000 hours on stage, Fabio Marques has delivered more than 3,500 live presentations, serving hundreds of organizations - small, medium and large (Fortune 500). Certified Professional Member of the National Speakers Association (NSA), Fabio helps his Clients to multiply their revenues while improving customer loyalty and productivity. Companies like Apple, Audi, Merck, Microsoft, Motorola, Dow, DuPont, Citibank, Cisco, JLL, Oracle, Puratos, Red Bull, Schneider Electric, Siemens, and many others of same caliber, have trusted Fabio to inspire and develop their leaders and teams all over Latin America, United States, UK, Hungary, Japan, Australia, and other locations.
Email
NOW YOU CAN
achieve service excellence and multiply profits while improving everybody's experience!