IMAGINE FEELING CONFIDENT
in every situation, under any circumstances, having true powerful influence over employees, business partners, clients, vendors, and any size of audience...
A BETTER PATH, A GREATER LIFE
This unique VIP Coaching/Mentoring Program empowers entrepreneurs, directors and managers, guiding them through the development of MAGNA INFLUENCE when LEADING, NEGOTIATING, and PRESENTING, so they can grow unshakable self-confidence, build promising relationships and achieve extraordinary financial results with less effort, based on total integrity, serving with a true heart, adding real value, and exercising EXCELLENCE in every human interaction.
Decode how others think and make decisions, and get more results without compromising your values.
DEVELOP MAGNA INFLUENCE and MAKE A MAGNA DIFFERENCE
WHEN LEADING, NEGOTIATING, OR PRESENTING
Understand WHY
I want to Help You Now
Hi, I'm Fabio Marques. 
No matter how much you already know about me, I want to be totally transparent with you.
I grew up feeling unworthy of success. 
I felt like I was not good enough. 
I had a stuttering problem, and that didn't contribute to build my self-confidence. 
In my desperate search for approval from others (Mom, Dad, Friends, Bosses, Clients, Society), I started working very early in life, at 11 years old...
At 14, I was already working full-time jobs and attending school at night, studying foreign languages in weekends, doing everything in my power to be a success and earn the respect from others. 
Gastritis, anxiety, insomnia, exhaustion... CAR CRASH!!! 
Months to walk normal again... Years to be able to play sports again and have a "normal" life. 
But I continued to move fast...
At 20 years old, I got promoted to be the Head of a Business Unit for a multinational corporation.
"Now I really have to prove my value!"
Working 12-16 hours a day, non-stop, didn't get me very far...
One night, alone in my office, so tired I couldn't get myself out of the chair, I dropped my face in my hands and started crying...
I didn't know what to do. 
It seemed like - no matter how hard I tried - I would never be really successful and have a healthy life...
I spent that night in my office, alone, struggling with my feelings and thoughts...
Next morning, as my employees arrived, one of them entered my office and closed the door behind him.
He wanted to talk to me about anticipating his vacation.
I was working like crazy, and he wanted to anticipate his vacation.
SOMETHING HAD TO CHANGE.
I HAD TO CHANGE.
I decided to become the most effective leader I could be. 
I decided to achieve Excellence and Extraordinary Results through a High-Performance Team. 
And - above all - I was determined to achieve all that without sacrificing my personal life anymore.
Of course, I knew that just my decision would not be enough. I needed a system to accomplish that. And, clearly, I would need to go the extra mile, every day, for a while, until I could finally figure it out.
After hundreds of hours of self-directed education, I created what I secretly called "THE MAGNA INFLUENCE BLUEPRINT" and started testing it every day with my team, my clients, my boss, my peers, and business partners...
I used the "PLAN, DO, CHECK, LEARN, ADJUST" CYCLE several times, refining and fine tuning... growing my influence and getting more engagement, collaboration, creating MUCH MORE VALUE in every interaction I had with others...
It worked. 
Two years later, the operation under my command was the best in Latin America and the 3rd best in the world in our industry. I was working much less and enjoying every minute of my life. 
I found time to learn how to play the guitar, the drums, and the piano, and to surf again (something I hadn't done for years), and to practice martial arts. 
I found time to travel, to fall in love... to HAVE A LIFE.
I became FREE to pursue other projects. 
I was not stuck anymore...
My "Magna Influence Blueprint" saved my life and gave me a greater purpose...


After my own accomplishments, I decided to help others do the same. 

Since 1996 I help Business Owners, Executives, Directors and Managers develop MAGNA INFLUENCE POWERS, so that they can Build High Performance Teams and Achieve Extraordinary Results for themselves and for the organizations they represent, without having to sacrifice their life in the process! 
Companies like Audi, Apple, Cisco, Corteva, Citibank, Dow, Dupont, JLL, Microsoft, Motorola, Merck, McDonald's, Nestlé, Oracle, Puratos, Schneider Electric - and hundreds of others of same caliber - have trusted me to inspire and empower their leaders and teams in more than 20 countries.
NOW I want to help YOU with the MAGNA INFLUENCE BLUEPRINT.
Today's technology makes it possible for us to work together, no matter where we are in the world.
WE CAN DO THIS.
Let's be the HEROES OF INFLUENCE that make a huge positive impact on the world!
Let's make a difference!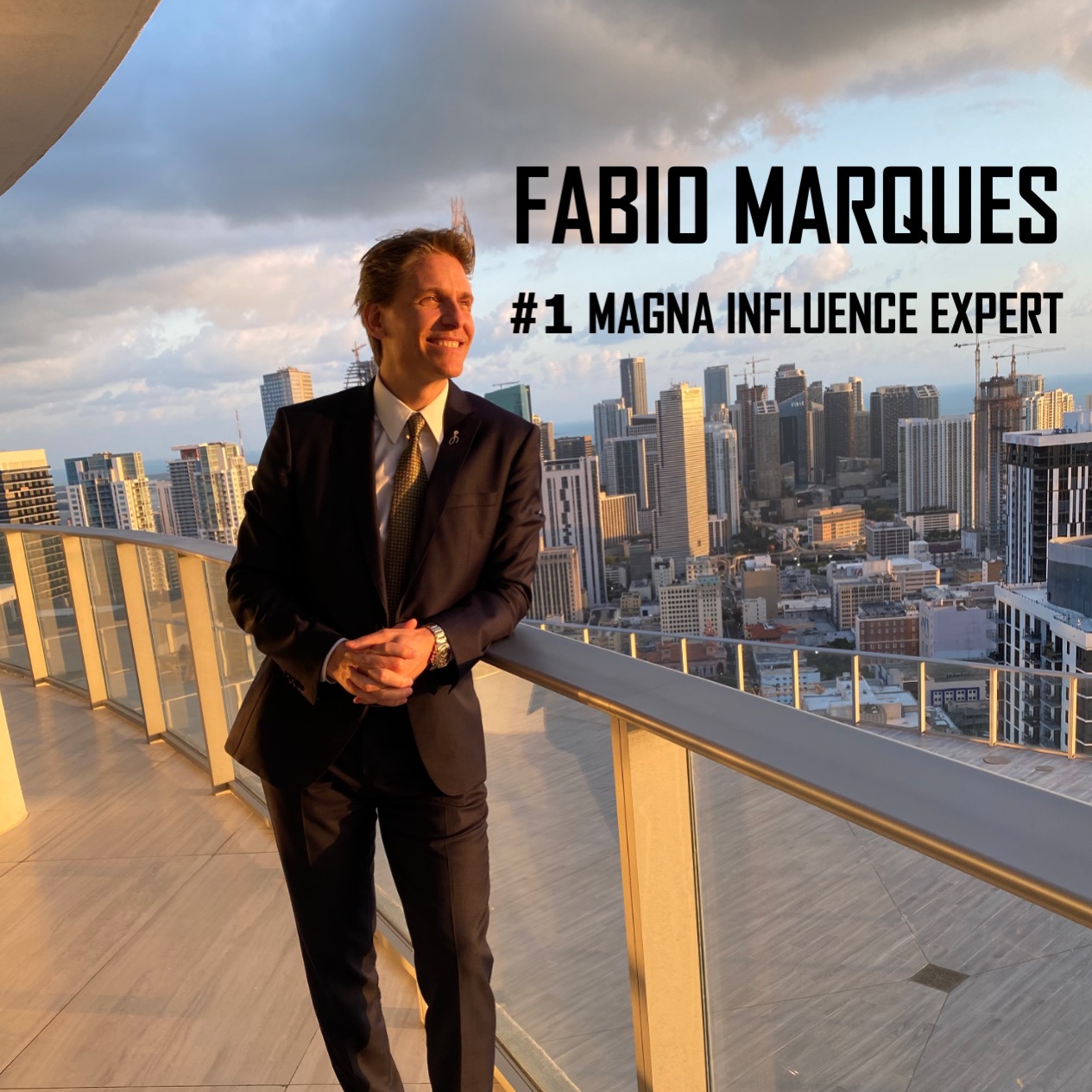 ENOUGH
ENOUGH of feeling under pressure all the time. ENOUGH of struggling to get things done. It is time for you to become a powerful leader and negotiator, under any circumstances, so that you can assure better outcomes with less effort and, FINALLY, start living the EXTRAORDINARY LIFE you deserve.
VIP LIVE SESSIONS
COACHING AND MENTORING
16h of LIVE VIP MENTORING SESSIONS with Fabio Marques, to explore strategies and techniques in real-life situations, get all your questions answered, and command better outcomes in every negotiation, every presentation, every meeting, and every single interaction with other people (clients, employees, peers, vendors, etc), for the rest of your life! = VALUE
BONUS COURSE 1
7 Fundamental Forces to Grow your Self-Confidence and Reach Sustainable Success
The 7 Fundamental Forces to Grow Your Confidence and Reach Sustainable Success, building enduring motivation and the strong habits you need to evolve and thrive at full speed. = VALUE
BONUS COURSE 2
The CAVAR Method: Decoding the Influence Map
Decoding the CAVAR Influence Map to quickly understand how people think, how they behave, and how they make decisions, accelerating the process of Building More Meaningful and Promising Relationships. = VALUE
BONUS COURSE 3
The PIB Negotiation Method to Accelerate Results
Applying the PIB Negotiation Method to Be Much More Convincing when Talking to Your Clients, Your Employees, Your Business Partners, Your Boss (if you have one), and any other person in your sphere of influence. = VALUE
Global Influence Expert
Fabio Marques
International Management Consultant, Sales Coach and Inspirational Speaker with over 16,000 hours on stage, Fabio Marques is The World's #1 Authority on MAGNA INFLUENCE, and has directly coached and mentored more than 165,000 people in 20 countries, empowering leaders, speakers, coaches, consultants, sales professionals, and even athletes and artists, to enjoy a richer, happier, and healthier life. Author of "FABULOUS MANAGEMENT SIMPLIFIED" and many other books and programs on Leadership, Team Building, Motivation, Customer Centric Culture, Sales and Service Excellence. Companies like Audi, Apple, Cisco, Citibank, Dow, DuPont, JLL, Merck, Microsoft, Motorola, Nestlé, Oracle, Puratos, and hundreds of others (small to large) have trusted Fabio to inspire and prepare their teams around the globe. Certified Professional Member of the National Speakers Association (NSA) and the Global Speakers Federation. Host for Global events like the "United Earth Amazonia Award " - the New Legacy of Nobel Prizes.
Email
T.I.G.E.R.
FABIO'S TIGER FORMULA FOR CONSTRUCTIVE COACHING & "MIND-BLOWING" MENTORING
Here's What Entrepreneurs and Executives Say
Eduardo Farinelli
"Fábio has been without a doubt the most effective Coach I had the opportunity to engage with. His lessons resonated with me for many years helping me achieve several objectives through my career. It is possible that once in a lifetime you are able to encounter and be part of such a life transforming experience. Thank you Fábio for all your teachings as it has definitely created a huge positive difference in my life."
Denise Lana Molina
"Fabio is one of that rare people who works for passion and you can read it between the lines of his exceptional job. He gets attention not only for the frame, but how deep he is envolved with the matter and audience. I strongly believe that way he has the results he does, people understand him and see a clear link in their jobs."
André Del Gaudio Chaves
"He shows the path. Even better, he allows you to discover it by your own means. Have been three years since I'd completed his course and I'm still learning from that. It completely changed my way to go throughout life and to face its everyday challenges. Happy, mindful, effective and rather spontaneous, Fábio Marques not only deserves the title as he is: the Man."
Candido Barbosa
"Fabio's high degree of knowledge always helps to identify business gaps and opportunities inside the business with his outsider's vision. At the same time his talent and creativity to work, adding value and showing possibilities to improve or make things better if you are in a leadership position, is his significant contribution!"
Joao Oliveira
"Fabio participated in a business seminar directed to Customer Service people from Volvo Cars Brasil dealer network. It was an excellent presentation and motivated even more our network in the daily pursuit of Customer satisfaction. I really like his concept of "Heart Share" instead of just "market share" because this has much more to do with creation of emotional links between the Customer and the brand. His book details in a very interesting way the concept and is an important reading for everyone trying to improve Customer loyalty."
Marsha Freedman
"I have had the pleasure of hearing Fabio present several times. As a presentation skills trainer and coach, I am a very discerning audience member. He passes my "test" with flying colors! Fabio does an amazing job presenting information in a dynamic and visually captivating fashion. He exhibits great passion for helping people and comes across as the kind of person you'd like to have a cup of coffee with. His sales tips have already helped me qualify my buyers and close more sales!"
Dave Bricker
"He is articulate, he engages the audience. He is very concerned about delivering VALUE. Fabio is different from others business speakers and consultants because he has walked the walk."
Fabio Araujo
"I worked with Fabio in many projects and I recommend him to help every company to increase their results. He is an excellent professional."
Flavia Ramos
"I used to work with Fabio during my time at Lucent and I really miss this time. He is a great consultant that brings to the company development, energy and motivation. I have learned a lot with him."
Edson Costa
"What to speak of my great leader Fabio Marques? The hardest thing here is to describe in few words what Fabio and is represented in my life... It's an amazing speaker and consultant, the person who best understands excellence in service in this country and enjoys sharing all his knowledge... And I'm not ashamed to say: "I want to be like him when I grow up!" I'm proud to be your friend!"
MAGNA INFLUENCE
RESOURCES
1

The 7 Fundamental Forces: Grow Your Confidence and Reach Sustainable Success

THE TRUTH OF THREE QUESTIONS

EXCITEMENT AND EXPECTATIONS

THE 7 FUNDAMENTAL FORCES FOR SUSTAINABLE SUCCESS

DEFINITION OF "FORCE" WE USE HERE

LEARNING: 3 MAJOR BENEFITS

LEARNING: 3 IDEAL HABBITS

2

ABOUT THE BAD HABIT OF COMPLAINING

The 7 Seconds Rule to Manage the Bad Habit of Complaining - TEDx Talk with Carolina Marques

3

FABULOUS MANAGEMENT SIMPLIFIED

Download your guide to Fabulous Management

4

CAVAR: Decoding the Influence Map to Quickly Build More Meaningful and Promising Relationships

DECODING THE CAVAR INFLUENCE MAP

Client-Centric Codification & Connection: part 1

Client-Centric Codification & Connection: part 2

5

PIB: Applying the Method to Be Much More Convincing when Talking to Your Team, Your Clients, and Your Boss (if you have one)

MAJOR POINTS TO MAKE THIS WORK

Using the PIB method to uncover secret information about how people think and how they make decisions, so that you can convince them of your ideas, projects, products or services...

Perception of Equivalent Value

PIB Selling Equivalent VALUE

How to reduce resistance before you talk about you and your stuff

How to ask questions in a powerful way, leading the thinking process

How to get the others to say "yes" to your ideas/products/services

Dealing with Objections Effectively with the S.U.P.P.O.R.T. System

6

Presenting With Impact (virtually or in person): Top Secrets to Multiply Your Power and Save Tons of Time

How to prepare for a winning presentation

How to develop and structure a compelling message

The GANTIP INTRO formula that grabs and holds your audience's attention

How to balance charts, images, texts, and questions, in your slide deck (when you need one)

How to present with impact with no slides

How to close in a way that opens opportunities
THE GUARANTEE
YOU FIND ONLY HERE
We know you are going to absolutely fall in love with this VIP Coaching & Mentoring Program, and recognize tremendous VALUE in everything you will get out of the BONUS COURSES. 
In fact, you will se better results in your personal and professional life in less than 30 days, or we will send back every penny you paid.
Investment Options
for 16h of LIVE Coaching / Mentoring Sessions + 16h of Bonus Courses and Supporting Lessons. Today you can take advantage of the promotional prices listed and select the best option for you instead of paying the regular price of $12,000 USD.
QUESTIONS?
Schedule your FREE BREAKTHROUGH SESSION directly with Fabio Marques, and get all the answers you need, so that you can make an educated decision.