Have you ever thought how much your life could be better if you could feel confident in every circumstance, having true powerful influence over others?
There is a NEW HERO out there, and that is YOU:
The Honest Realtor, who takes responsibility for leading other people through important decisions in times of uncertainty and never-ending change...
If you knew the secrets to build meaningful and promising relationships quickly, decode how others think and make decisions, you could get more results with less effort, and, most importantly, without compromising your values and integrity.
Learn more about MAGNA INFLUENCE and MAKE A MAGNA DIFFERENCE!
Understand WHY
I want to Help You Now
Hi, I'm Fabio Marques.
I started working very early in life, at 11 years old...
My first "job" was in Real Estate, helping Realtors place "FOR SALE" and "SOLD" signs at properties.
My mom was a realtor, always struggling to pay the bills.
I thought I should try to help somehow.
As I was getting more and more involved with her routine, I began to notice her difficulty in competing with other Realtors that were not as honest as she was...
I grew up as a witness of her constant fight to make a living out of her passion for honest Real Estate practice. And seeing the "bad guys" wining really made me want to do something about it. So, I decided to learn everything I could about ethical negotiation and influence...
Unfortunately, my mom gave up before I could help her, but I continued to study and practice, because I wanted to help HONEST REALTORS, like my mom, to win the battle against the "bad realtors" out there.
Along the years, I was able to develop a very effective methodology to master the best strategies and techniques to influence others based on total integrity.
I called it the MAGNA INFLUENCE BLUEPRINT.
It worked beautifully throughout my career in engineering and, later, in business management. Then, it also helped me become a successful business consultant, coach, and international professional speaker.
In 2007, I decided it was time to test my MAGNA INFLUENCE BLUEPRINT in the Real Estate industry. So, I delivered speeches and training workshops to realtors and multinational Real Estate organizations.
The results have been AMAZING!!!
NOW I want to help YOU with the MAGNA INFLUENCE BLUEPRINT.
Today's technology makes it possible for us to work together, no matter where we are in the world.
WE CAN DO THIS.
Let's be the HEROES OF INFLUENCE that make a huge positive impact on the world!
Let's make a difference!
The Blueprint for You
to be the irresistible realtor
LIVE VIP COACHING SESSIONS

BONUS COURSE 1: Self-Confidence

BONUS COURSE 2: Rich Relationships

BONUS COURSE 3: PIB Negotiations
VIP LIVE SESSIONS
CONSTRUCTIVE COACHING
16h of LIVE VIP COACHING SESSIONS with Fabio Marques, to explore strategies and techniques in real-life situations, get all your questions answered, and command better outcomes in every negotiation, every presentation, every meeting, and every single interaction with other people (clients, employees, peers, vendors, etc), for the rest of your life! (VALUE)
BONUS COURSE 1
Self-Confidence
The 7 Fundamental Forces to Grow Your Confidence and Reach Sustainable Success, building enduring motivation and the strong habits you need to evolve and thrive at full speed. (VALUE)
BONUS COURSE 2
Rich Relationships
Decoding the CAVAR Influence Map to quickly understand how people think, how they behave, and how they make decisions, accelerating the process of Building More Meaningful and Promising Relationships. (VALUE)
BONUS COURSE 3
PIB Negotiations
Applying the PIB Negotiation Method to Be Much More Convincing when Talking to Your Clients, Your Employees, Your Business Partners, Your Boss (if you have one), and any other person in your sphere of influence. (VALUE)
Global Influence Expert
Fabio Marques
International Management Consultant, Sales Coach and Inspirational Speaker with over 16,000 hours on stage, Fabio Marques is The World's #1 Authority on MAGNA INFLUENCE, and has directly coached and mentored more than 165,000 people in 20 countries, empowering leaders, speakers, coaches, consultants, sales professionals, and even athletes and artists, to enjoy a richer, happier, and healthier life. Author of "FABULOUS MANAGEMENT SIMPLIFIED" and many other books and programs on Leadership, Team Building, Motivation, Customer Centric Culture, Sales and Service Excellence. Companies like Audi, Apple, Cisco, Citibank, Dow, DuPont, JLL, Merck, Microsoft, Motorola, Nestlé, Oracle, Puratos, and hundreds of others (small to large) have trusted Fabio to inspire and prepare their teams around the globe. Certified Professional Member of the National Speakers Association (NSA) and the Global Speakers Federation. Host for Global events like the "United Earth Amazonia Award " - the New Legacy of Nobel Prizes.
Email
T.I.G.E.R.
FABIO'S FORMULA FOR CONSTRUCTIVE COACHING
Eduardo Farinelli
"Fábio has been without a doubt the most effective Coach I had the opportunity to engage with. His lessons resonated with me for many years helping me achieve several objectives through my career. It is possible that once in a lifetime you are able to encounter and be part of such a life transforming experience. Thank you Fábio for all your teachings as it has definitely created a huge positive difference in my life."
Denise Lana
"Fabio is one of that rare people who works for passion and you can read it between the lines of his exceptional job. He gets attention not only for the frame, but how deep he is envolved with the matter and audience. I strongly believe that way he has the results he does, people understand him and see a clear link in their jobs."
André Del Gaudio
"He shows the path. Even better, he allows you to discover it by your own means. Have been three years since I'd completed his course and I'm still learning from that. It completely changed my way to go throughout life and to face its everyday challenges. Happy, mindful, effective and rather spontaneous, Fábio Marques not only deserves the title as he is: the Man."
Candido Barbosa
"Fabio's high degree of knowledge always helps to identify business gaps and opportunities. At the same time, his talent and creativity to work, adding value and showing possibilities to improve or make things better, is his significant contribution!"
Marsha Freedman
"I have had the pleasure of hearing Fabio present several times. As a presentation skills trainer and coach, I am a very discerning audience member. He passes my "test" with flying colors! Fabio does an amazing job presenting information in a dynamic and visually captivating fashion. He exhibits great passion for helping people and comes across as the kind of person you'd like to have a cup of coffee with. His sales tips have already helped me qualify my buyers and close more sales!"
Dave Bricker
"He is articulate, he engages the audience. He is very concerned about delivering VALUE. Fabio is different from others business speakers and consultants because he has walked the walk."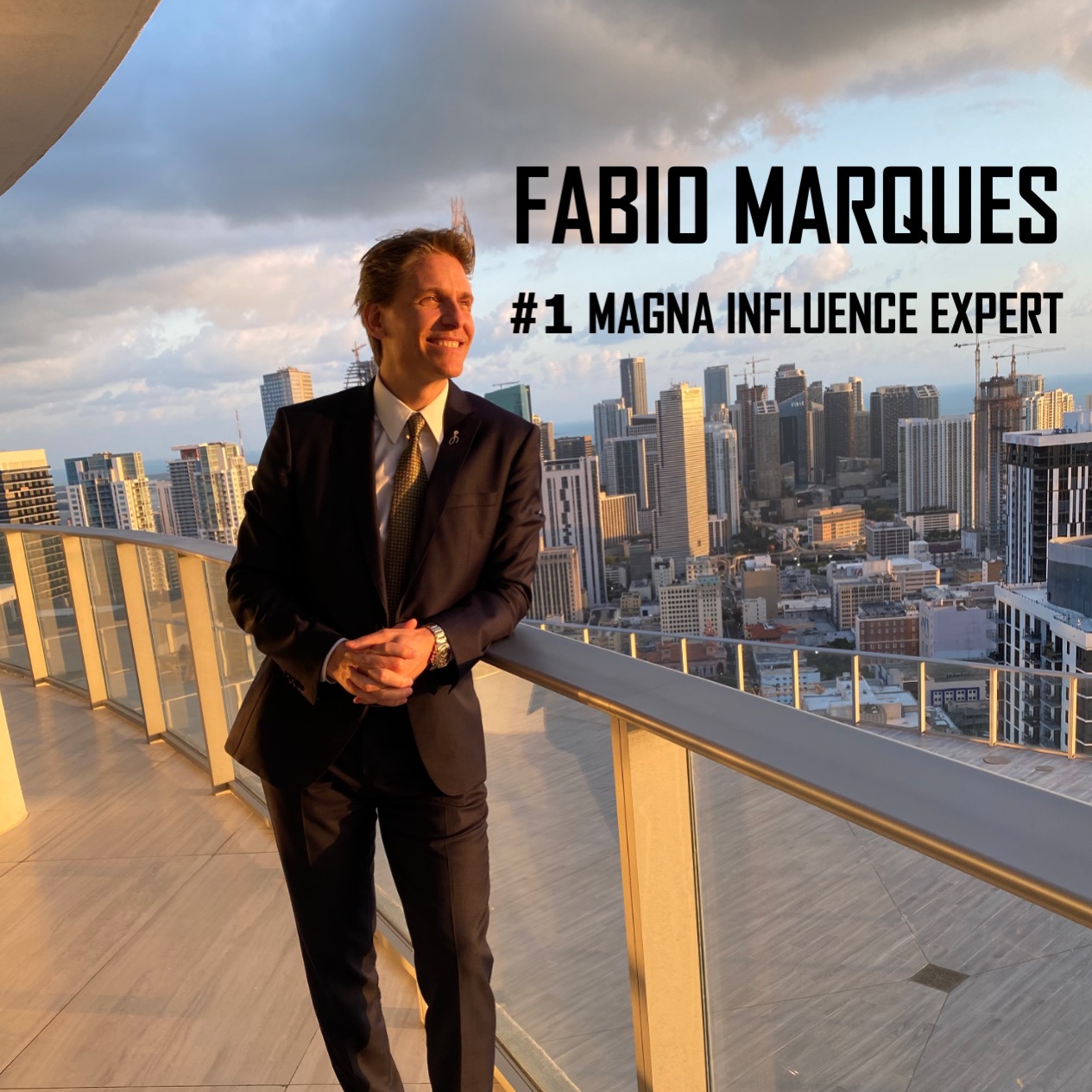 THE GUARANTEE
YOU FIND ONLY HERE
We know you are going to absolutely fall in love with this VIP Coaching Program, and recognize tremendous VALUE in everything you will get out of this experience. 
In fact, you will se better results in your personal and professional life in less than 30 days, or we will send back every penny you paid.
Investments Options
for 16h of LIVE Coaching / Mentoring Sessions + 16h of Bonus Courses and Supporting Lessons. Today you can take advantage of the promotional prices listed and select the best option for you instead of paying the regular price of $12,000 USD.
QUESTIONS?
Schedule your FREE BREAKTHROUGH SESSION directly with Fabio Marques, and get all the answers you need, so that you can make an educated decision.